The Furis has a high rate of fire, causing an outcome of a high damage output, sacrificing ammo.
This weapon can be sold for 5,000

‍ 5,000; it is also a requisite ingredient for Afuris (x2).
The blueprint can also be acquired through Login Rewards.
Characteristics
Edit
This weapon deals primarily

Puncture damage.
Advantages:
Good rate of fire.
A  polarity slot.
Low recoil and high accuracy, even at medium-far ranges.
When fired in short bursts, it can be useful at any range, while dealing decent damage.
Has high base

Puncture

damage.
Can use the Furis-exclusive Winds of Purity mod.
Disadvantages:
Comparisons:
Furis, compared to Afuris:

Equal base damage, but different composition:
Lower fire rate (10 rounds/sec vs. 20 rounds/sec)
Smaller magazine (35 rounds vs. 70 rounds)
Faster reload speed (1.4 s vs. 2.8 s)
More accurate (15 vs. 9)
Lower Mastery Rank required (2 vs. 4)
Weapon Loadouts
Edit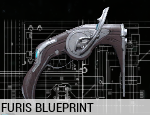 "Furis" means "thief" in Latin.
A Lotus symbol seems to appear at the end of the magazine, justifying itself as a Tenno weapon.
The Market blueprint icon of the Furis once did not have the appearance of the actual model, instead it lacks a magazine, its stock appears to slender inwards (without having a "butt" on the end) and its barrel has edged below (making a spike of some kind). This has since been fixed in recent updates.
Furis Sk

i

ns
Patch History
Edit
Update 21.0
Increased damage from 15 to 20
Increased Status Chance from 1% to 8%
Increased Mastery Rank requirement from 0 to 2
Furis has received the PBR treatment.
Item introduced with game release.
Ad blocker interference detected!
Wikia is a free-to-use site that makes money from advertising. We have a modified experience for viewers using ad blockers

Wikia is not accessible if you've made further modifications. Remove the custom ad blocker rule(s) and the page will load as expected.